http://addicted2italy.com/images/stories/italy3.jpg
Buying music in Italy
They say Italians invented music, and the Spanish invented dance.  What better place to buy music than when you are visiting Italy?
I really believe in this statement. There are all different types of Italian music, from regional differences including Sicilian, Neapolitan, etc. There are also some famous music festivals throughout the year, including Sanremo.
Watch out iTunes - in many of the bigger towns in Italy, you will see a mobile boom-box looking cart where the vendor sells his music. I bought 3 CD's of my favorite Italian artists (Eros, Gigi, and Laura Pausini) on recent trip to Italy from a vendor (see picture below).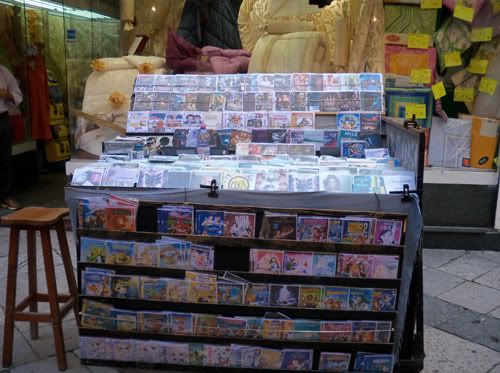 The music, of course, was copied on a CD. I'm not sure how they get away with it, but they do. The price I paid was 5 Euros for the 3 CD's. I remember a time about 12-15 years ago (before CD's became popular), I would purchase a cassette tape (which was also copied), for approx 8 Euros each in today's prices. That's what you call deflation, and also the effect of illegal pirating.
But I would buy as much music as you can in Italy - they will even play the music for you to show you that you are not purchasing a blank CD. A great way to learn about the Italian culture is to appreciate their beautiful music!